High-Power Business Networking at the SME Forum 2011in Luxembourg
January 31, 2011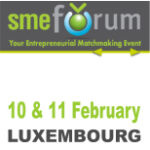 The b2fair matchmaking event of the ´SME Forum´ will take place in Luxembourg in the premises of Luxexpo on 10th & 11th of February, 2011. As part of the professional trade fair ´CONTACT´, this matchmaking event offers the ideal meeting place to promote and to generate potential business contacts between companies at interregional and international scale.  Codespring will be represented and promoted at the event by CENTI – The Center for Technology Transfer from Cluj-Napoca, Romania.
In 2009 more than 300 companies represented by around 500 participants took part in this matchmaking event, with more than 3.200 business meetings within 2 days, 14 countries taking part in this initiative, a network of 32 partners coming from 17 different countries promoting the event.
The professional trade fair ´CONTACT´ is an entrepreneurial networking event, housing exhibitions, conferences and matchmaking platforms. It focuses on the Greater Region's business development and puts a special emphasis on business related services while hosting companies from a wide range of sectors.
Coming from Rhineland-Palatinate, Saarland, Lorraine Wallonia and the Grand Duchy of Luxembourg, the participating companies are all willing to extend their business relationships to the neighbouring  regions as well as to many other European countries. The participation of business delegations from  Hungary, Italy, Poland, Bulgaria, Romania, Croatia, Serbia, and Turkey will enhance the international character of the event.
The b2fair event offers to be a professional trade fair, and in the same time, a business cooperation exchange platform. it offers to companies – visitors and exhibitors – business meetings with other companies made possible via an online catalogue containing detailed company profiles and specifying the business cooperation desired.
Codespring will be represented and promoted at the event by CENTI – The Center for Technology Transfer from Cluj-Napoca.
Codespring is looking for:
– strategic business partnerships with worldwide partners for software development projects on various platforms and technologies at most competitive rates;
– outsourcing projects, off shore, near shore and on-site software development;
– software development projects at any phase: from requirement analysis, architectural software design, coding, unit software testing, integration software testing, support and maintenance.
Should you be interested to find out more about our services and technical expertise, please contact us.