Liferay 6. Moves Your Organisation Forward – Conference Report
June 20, 2011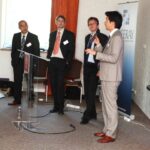 Liferay Hungary Symposim was a quite an experience for the Codespring Liferay team. The first Liferay Hungary Symposium kept us tuned on Liferay's platform capabilities and updated us and the community about the latest developments and business outlook of the company. The motto of this year's conference – "Make your Connection" – has inspired us to meaningful discussions about Liferay as a strategic software platform. We appreciated the chance to network with Liferay community members, support, engineering and business leaders. Following the insightful technical sessions of the Budapest conference, held on the 26th of May, 2011, we would like to point out some key findings.
LIFERAY 6
Zsolt Berentey, General Manager & Head of Development of Liferay Hungary has offered a comprehensive overview of the latest version of the Liferay Portal: Liferay 6.  The session focused on new features and improvements in both architecture and performance.
Functional Improvements
Integrated workflow engine, custom attributes, web content structure editor, asset publisher improvements, page and web site templates, social equity, usage of teams, inline permissions and content sharing are the most important functional improvements of Liferay 6.
The integrated workflow allows assigning workflows to content creation for the main out-of-the-box portlets, is configurable per organization or community and Uses Kaleo, Liferay's built-in workflow engine. Liferay 6 allows defining custom attributes to all entities within the portal. No DB change is required, UI is automatically generated, indexed and searchable. The new structure editor enables drag and drop positioning of elements, integrated help through tooltips to guide the user, with the ability to change the structure without leaving the content editor. Asset publisher now displays any type of content. Content can be filtered by: community or scope, specific content type or tags and categories. Filters can be combined in any way.  Page templates allow the creation of preconfigured pages with one click, speed up the process of building web sites with many similar pages and make the process of adding pages for non-technical users easier. Site templates define a full set of pages with fully configured portlets and content, allow building full web sites with a click of a button and can be set at creation to public and/or private pages. Social Equity provides the ability to rate the participation of a user based on his activities. Teams allow creating ad-hoc teams of users within communities or organizations.  Global scope enables sharing content across all communities and organizations.  Inline permissions allow smart querying of the database to filter out results at the earliest and apply out-of-the-box to document library and message boards.
Usability Improvements
A great deal of usability improvements include: new default theme, improved navigation and administration, face-lift and improved design for content portlets and web accessibility (WCAG 2.0).  An innovative dockbar simplified the administration and provides means to navigate across the pages of the portal. Unified breadcrumb enables page hierarchy and portlets navigation. Web accessibility is achieved by adoption of W3C's WCAG 2.0, which is compatible with web 2.0 technologies and with dynamic web applications. In addition to this, usage of Alloy UI taglibs and integration with CKEditor make wen usability easier.
Platform Improvements
Performance, audit framework, reports generation, scripting framework, sharding are the major platform improvements brought by Liferay 6.  Performance has made a move from super fast speed to ludicrous speed: Liferay 6 is three times faster than version 5.2 and Liferay 6 EE is 50% faster than CE.  Audit framework allows auditing any operation performed by the user, is customizable through hook plugins, includes UI to query audit logs and is available in EE versions. Reports generation is available in the EE version only. It allows executing predefined reports based on the information of the database (growth of users, number of content per type), allows scheduled execution and can be integrated with the de-facto standard engines: Jasper, BIRT (soon). Scripting frameworks allow users to extend the existing functionality by industry standard script languages and provides runtime execution of any of the main languages supported by the JVM: Groovy, Ruby, Python and JavaScript. Sharding lets you distribute data and load across several databases automatically or manually. For data isolation it can use different databases for different customers.
Extensibility and Integration Improvements
Liferay Developer Studio, Alloy UI Framework and Generic Asset Framework are key extensibility and integration improvements of Liferay 6.  Liferay Development Studio allows creating several plugin types (hooks, layout templates, portlets, etc.), includes application server management, supports deploying, redeploying and hot debugging, supports service builder and is based on Eclipse. The aim of the Alloy UI Framework is to increase productivity when building advanced UIs.  Alloy UI Framework allows encapsulating advanced UI components for reutilization, is very flexible and configurable, being specially prepared for portal environments and provide taglibs for creating accessible sites. Generic Asset Framework allows you to add new types of plugins.
CONCLUSIONS
Taking into account the various improvements presented above, we can notice that Liferay 6 consolidates the evolution of Liferay during the last 10 years.  This version adds many useful new features based on customer and community feedback. The platform is now faster, more robust, scalable and extensible. Support for standards as well as new useful technologies continues to be a priority.