New Release April 2011 Edition of the Codespring Company Papers Published
April 29, 2011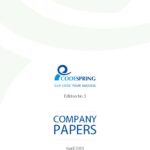 Entering the 2nd quarter of 2011, the world of software code is taking in fresh, spring air. After the major spring event of the IT&C global business community in Hannover, Codespring team is looking ahead for the challenges to come.
The pursuit for "EXCELLENCE"continues and we are proud that our message for 2011 was well received by our industry peers and the media. This 3rd edition of Company Papers brings to your attention new data and forecast regarding the IT&C market in Romania, an exclusive interview wih one of the CEE region's top leaders and our longterm partner, a special focus on the Romanian IT&C wages and the traditional "thinking point". In the end, our news section keeps you up to date with events that marked the last quarter for Codespring.
Always in our spotlight, the local software development market will benefit of our special attention. Positive indicators reveal a slow but consistent recovery of the overall business environment.
Follow our publications and find out fresh data here about Cluj-Napoca sofware development.