New Release: January 2011 Edition of the Codespring Company Papers published
January 31, 2011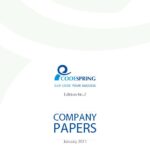 Codespring's governing thought for 2011 is: striving for excellence! Embrace our leading thought and gather new ideas from the Second Edition of the Codespring's Company Papers. We wish to give you top insight into today's trends and innovations from across the ICT industry. Discover and explore selected highlights of the January issue: how do CEE IT&C winning business models restore growth rates, what influence do digital technologies have on the media & entertainment industry, what is Productis, how will augmented reality change our lives?
After a hectic couple of years, we have found a little moment to reflect upon what will 2011 stand for: What would be the drive for our business behaviour? What will be the challenge this year? What does Codespring team need to achieve?  Where will our clients and partners seek for added value? … a few  questions that requested simple, straightforward answers.
Eventually, we have pinned-up a single word: "EXCELLENCE".
2010 proved to be a year of major changes in the IT&C industry at global level.  In order to restore growth rates, companies did focus on improving processes and reducing costs at all levels.
Taking a snapshot of the CEE region data, some particular phenomena can be noticed: a) Migration of the Western European and US development centres to Central and Eastern Europe; b) Rising of new IT&C contenders on the CEE market; c) Increase of Total IT Services exports; d) Growth of domestic IT outsourcing consumption markets.
More information, more knowledge, more advantages for you – we wish you a pleasant reading and look forward to hearing from you! Tell us what you think!
http://www.codespring.ro/wp-content/uploads/2010/03/Company-Papers-_January-2011.pdf