New Release – June 2011 Edition of Codesping Company Papers Published
June 30, 2011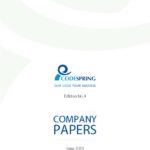 It seems that Cluj-Napoca software development community really hit the ground running in H1 of 2011. Even if the signs of this good start may be seen only at the end of the year, we are inclined to expect positive figures and an enforcement of the city rankings on the IT&C map in the CEE region.
This time, we chose to look at the wider specific traits spectrum that propels Cluj-Napoca as an offshoring and outsourcing destination. We had a deeper look at the health care IT systems evolution and tried to outline the reasons why Romania is becoming an emerging offshoring destination in the field, competing with some of the largest countries in the world.  Next, our focus section shifted to the critical analysis of the social portals phenomenon, sensing the direct impact on our personal lifes. A subject of great relevance for our customers and team, the constribution of IT sector to the smart energy use, stirred our minds and reflections upon the importance of a consistent corporate energy strategy. In the end, our Company Papers 4th edition, sums up the events we have attended during the last three months and part of the relevant findings released for the public.
Hoping that you will enjoy again the fresh breath of information that we have carefully prepared for you, we enter the summer with all engines turned on.
Follow our publications and find out fresh data about the Cluj-Napoca Business Process Outsourcing (BPO) market.
The Codespring Team.