Romania's economy is back on track: GDP up in 2011
April 18, 2011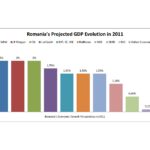 Romania's economy is set to return to the growth this year, after withstanding a two year recession. After having been one of the fastest-growing economies in Europe in the mid-2000s, producing a 6.3% GDP growth in 2007 and 7.3% in 2008, the global economic downturn revealed Romania's structural weaknesses and imbalances. In 2009 the economy shrank by 7.1%, followed by a 1.9% contraction in 2010. The year 2011 has brought an export-led industrial recovery. Positive macroeconomic indicators have triggered off positive rating from international institutions, with GDP increase forecasts up to 2% for 2011.
The euro area is driven by a double speed gear shift: well-developed economies of the euro zone bring solid performance boosts, while other EU member states with high public debts and budget deficits show weak economic activity and defy high unemployment. However, Germany and France, the two largest economies of the euro area have also seen a slowdown in growth in the last two quarters of 2010, after the unexpectedly good figures in the second quarter.
In the EU bloc, average economic growth is estimated at 1.6 percent for both 2011 and 2012. Romania's economy is expected to  produce a 2% advance this year and 4% in 2012, a year in which the economy will register a"mini-boom", as a result of the elections, according to a report made by the Vienna Institute for International Economic Studies (WIIW).
"A return to the boom years preceding the crisis is impossible because of difficult external financing. However, a mini-boom can be expected in an election year in 2012. Most likely, it will be followed by a new wave of fiscal stabilization and deceleration growth.  The factors that lead to this economic cycle are already visible in the current Government plans, but actual growth will depend on economic policy and the response of capital markets" said Gábor Hunya, senior economist at WIIW, cited by Wall-Street.
JP Morgan predicts a 2% economic performance for Romania this year, fuelled by exports, the success of domestic reforms and the support of the IMF and the EU. The US Bank notes that the "secular trend" of the economy has remained intact, even if performances from 2010 were disappointing and appetite for investment has declined.
A CitiBank report said that the Romanian GDP is poised to grow by 2% in 2011. Citi's analysis assesses the impact of the slowdown of the economic activity in Germany on the emerging markets in Central and Eastern Europe. Because Romania's exports ratio to Germany is of only 7-10 percent of the GDP, it would be least affected by the economic slowdown in Germany, with only 0.2% drop.
The Romanian economy will grow 1.7% this year, mainly due to strong evolution of exports and the country's credit rating could be improved, according to an analysis of Unicredit.
The National Bank of Romania (BNR) anticipates a 1.5% GDP growth in 2011, in line with economic projections made public for Romania by the International Monetary Fund (IMF), European Commission (EC), World Bank (WB) and Raiffeisen Bank. "Romania has entered a new cycle of growth, but we must hurry slowly because we can easily reach to the same traumatic experience to be forced to make new corrections" – declared Mugur Isărescu, the Governor of BNR.
According to Raiffeisen Bank Romania's economy will recover gradually in 2011 and GDP will register a 1.5% growth mainly due to recovery in external demand that will boost exports. The Austrian Bank expects an economic growth below the figures of the years 2000-2008, mainly because of lower capital inflows.
Raiffeisen points out that, among the countries in Central and Eastern Europe, Romania was the worst affected by the global economic crisis and continued to    decline in 2010, while the economies of other countries have increased.
The European Bank for Reconstruction and Development (EBRD) revised Romania 2011 economic growth forecast upwards, anticipating a 1.1% growth this year, compared to an October 2010 forecast that had foreseen an expansion of 0.9% in 2011. According to the latest quarterly report made public in Vienna, EBRD is expecting that the recovery that began in most parts of emerging Europe last year is continuing in 2011, but facing increased downside risks. The report reveals that "economic prospects have improved slightly in recent months in Bulgaria and Romania (…). In Romania, the government has managed to remain on course with the IMF program by implementing harsh austerity measures that will help to keep the fiscal accounts under control,".
A financial analysis published by ING Bank, an institution known to issue the most pessimistic economic forecast, projects a 0.6% economic upsurge in 2011 for Romania, an estimation updated upwards from 0.2% made public earlier.
Nicolaie Chideşciuc, chief economist at ING Bank Romania, the local branch of Dutch financial institution ING, declared the revision was made based on detailed GDP data and ING's oil price forecasts (maximum 140USD/barrel in Q2'11 and 115USD/barrel by Q1'12).
Oxford Economics predicts a 0.1% low-keyed economic improvement this year, overriding its previous estimates that assumed a 1% contraction.  The agency found that exports continue to be the main driver of growth, but Romania remains vulnerable if demand from the EU decreases. What's more, the study assesses that economic growth will continue to be poor in Romania, but considers fiscal consolidation of fundamental importance to ensure a lasting economic recovery.
In conclusion, it seems clear that Romania's GDP evolution is accelerating. The figures published by international institutions give sound reasons for investor optimism and nurture a sustainable long-term growth.