Romanian GDP per Capita and Wages Increase
May 4, 2011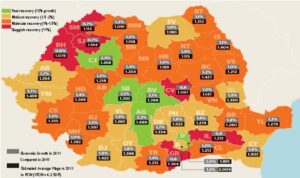 According to an official forecast published by the Romanian National Commission of Prognosis (CNP) Romanian GDP will increase by 1.5% and avarage net wage will rise by 5.2% to 350 EUR in 2011. The country's economic growth will happen in multiple trend lines, with an estimated minimum GDP growth rate by 0.6% in Giurgiu county and a maximum 2.5% economic advance in Cluj, Transylvania. The counties of Cluj, Argeş, Sibiu, Braşov and Ilfov will register a fast recovery, scoring a GDP performance higher than 2% in 2011. A sluggish economic recovery, less than 1%, is expected in Giurgiu, Satu-Mare, Sălaj, Covasna, Bihor and Ialomiţa counties. Other counties will oscillate between average (1,5%-2%) and moderate (1%-1,5%) GDP performances.
GDP growth is fueled by relatively high consumer purchasing power, exports-led production and foreign capital inflow. "Unfortunately our economic model is based on consumption of imported goods. So the few counties with rapid growth are those that produce for export, but they can not pull up the whole. In Cluj and Argeş the stimulating engines are, in fact, Nokia and respectively, Dacia, both producing for export" concludes Ilie Şerbănescu, financial analyst, cited by Adevărul.
GDP per Capita of Romanian Counties
Romania, which joined the European Union on January 1st, 2007, is the 22nd largest economy in Europe and the 17th in the EU by total Gross Domestic Product (GDP). Before the global economic recession, Romania enjoyed almost a decade of steady economic growth, thanks to a strong demand in EU markets. Domestic consumption and foreign investments have fuelled strong GDP growth, but have also led to a widening account deficit. The year 2008 was marked by a great economic expansion, when a credit-fuelled consumption made Romania the EU's fastest-growing economy. After being hit by the financial crisis, in early 2009, the country plunged into recession and the GDP fell by more than 7%, below the level of 2007. This prompted the Government to turn to international support, contracting loans from the IMF, the European Commission and the World Bank Group. The international community agreed to support the Romanian economy with a package totaling EUR 19.95 billion over the period 2009-2010. Austerity measures were implemented through 2010 as part oft he IMF-led agreement, yet the GDP contracted by another 1.9% in the same year. Nevertheless, the country's fiscal performance to date sends encouraging signals with respect to resumed growth in 2011. An estimate by the CNP, in line with current GDP forecasts made by Eurostat, expects the GDP of Romania to reach the former level of 2008 between 2011 and 2012. Analysts forecast a growth in GDP of 1.5% in 2011, followed by a growth of 4.4% in 2012.
GDP per capita in Romania varies dramatically even among same ranked counties. The highest value is registered in Bucharest, with a GDP of EUR 15 143 per capita estimated for 2011, and the minimun in Botoşani, with EUR 2804 per capita. GDP per capita from Bucharest exceeds three times the national avarage rate of EUR 5600, and is almost six times higher than the value measured in the least performing county. The reason for this is that earnings registered in the capital actually come from business activity undertaken in the whole country. Timiş, Cluj and Braşov counties have a very close economic performance, with GDP per capita estimates of EUR 8697, EUR 8157 and EUR 7364 in 2011.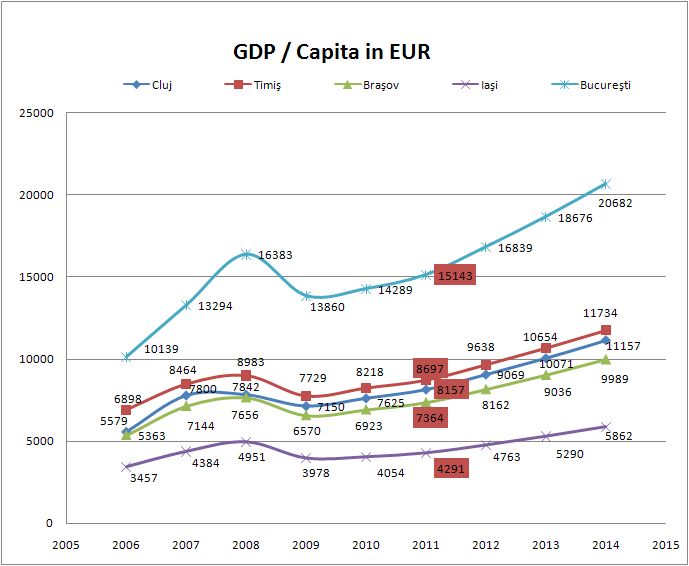 National Average Wages and Salaries Practiced in Romania's IT&C Sector
Average net wage is estimated to rise by 5.2% to 350 EUR in 2011. According to CNP, average net wage will exceed EUR 477 in 2011 in Bucharest only. Bihor county is likely to have the lowest level of earnings with an average net rate of EUR 257, almost two times lower than the value measured in the capital. In Transylvania, Cluj county scores the highest average net wage with EUR 347 in 2011, followed by Braşov with EUR 332 and Sibiu with EUR 331. Although the highest increase in wages was recorded in 2010 in Braşov, the county has failed in 2011 to enter the top ten counties in terms of average monthly salaries. Only one county from Moldova made it to the top ten: Bacău, and not Iaşi, as expected. Bacău occupies 9th place with an average net earnings ratio of EUR 340, while Iaşi is positioned on the 11th place with EUR 334.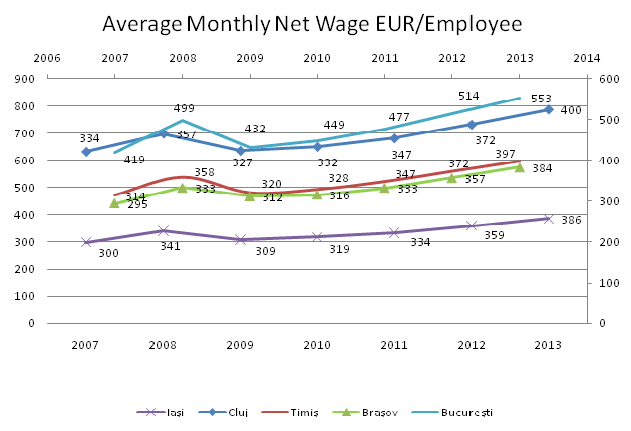 Around 40% of private companies in Romania estimate an average 6.8% raise in salaries in 2011, compared with an average 4.3% salary raise in 2010, according to a PayWell Romania survey on salary and benefits, conducted by PricewaterhouseCoopers (PwC). Salary raises ranged from an average 2.9% in the retail sector, to 5.9% in the IT industry. The survey indicates that the highest salary raises in 2010 were registered in the IT sector (5.9%), the pharmaceutical sector (5.4%) and the auto-making sector (4.9%), while the banking and retail sectors saw salary raises of only 3% and 2.9%, respectively. According to the survey, employees within private companies with turnovers of up to EUR 50 million and companies with less than 500 employees register the highest salaries, namely, gross wages of EUR 759 and EUR 963, respectively. On the other hand, a company with a turnover higher than EUR 300 million offers gross wage of EUR 687, while companies with 501 up to 1,000 employees, the gross wage amounts to almost EUR 557. Depending on the region, on average, the gross wage in Bucharest rises to EUR 947 in 2010, while outside Bucharest, the monthly average salary amounts to EUR 569.
Historically, highest wages were earned by employees working in the financial sector and air transportation industry. By now, this has changed in favour of the IT&C industry. According to the AIMS Salary Map IT Study carried out by AIMS Human Capital, IT companies in the Western part of Romania will increase the level of salaries by 10% on average in 2011. The study revelas that the average level of the gross monthly salary for a senior software developer is EUR 1600, while a junior developer makes on average only EUR 712 per month. However, there are companies that pay better juniors in programming so that their salaries can vary between a minimum level of EUR 250 and a maximum level of EUR 1440 per month. The level of the salaries increases according to the hierarchy. The manager of a department who runs teams of more than 50-100 employees will earn on average EUR 2887 gross salary per month, which is nearly two times more than a senior team leader. The study included 30 companies in centers from Timişoara, Cluj, Sibiu and Braşov, which had a total number of 6,200 employees.