Surging demand for IT goods in Romania in Q1 2012
May 28, 2012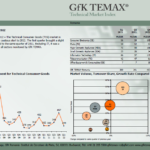 In the first quarter of 2012 Information Technology goods follodwed an ascending trend on the Technical Consumer Goods (TCG) market in Romania. The sales value of the Information Technology sector in Romania increased by 3.2% in Q1 2012 compared to Q1 2011, reaching the amount of EUR 101 million – according to findings of GfK TEMAX® Romania.
 Mobile computers and tablets were the driving force of this sector. Tablet sales experienced significant growth over the last few quarters, thanks to their features and assets: compact, easy to carry, and the high autonomy of the battery.
Results of GfK TEMAX® Romania for the first quarter of 2012 indicate that the Technical Consumer Goods market in Romania underwent a slight decline of 1% compared to the first quarter of 2011. All TCG market sectors, Electronics (CE), Photo (PH), Major Domestic Appliances (MDA), Small Domestic Appliances (SDA), Telecommunication (TC) and Office Equipment & Consumables (OE) followed a negative trend in Q1 2012, except from IT.
The largest sector, Information Technology (IT), was the only one to show a slight increase (3.2%) compared to Q1 2011. The Consumer Electronics sector (CE) was relatively stable, at -0.2%. Photo and Small Domestic Appliances (SDA) were also close to their performance of 2011 with negative growth rates of -1% and -1.3%, respectively. In contrast, Major Domestic Appliance (MDA), Office Equipment (OE) and Telecommunications (Telco) showed less encouraging signs in Q1 2012.
Telecommunications: demand for Smartphones increases among Romanian users.
The total value of the Telco sector declined by 6.6% in the first quarter of 2012 compared to the same period of 2011, summing EUR 38 million. Bad weather conditions can be an explanation for this consumer behavior. The end of January and February were characterized by very low temperatures. The harsh winter persuaded consumers to postpone their acquisitions. The negative effects were also felt at the beginning of March 2012. Moreover, the decrease of the sector was also a consequence of the fact that the share of regular mobile phones declined significantly in the total market. Smartphone devices increased their share in units and even more in value, yet that did not balance the decline of regular mobile phones. This trend points to the conclusion that the superior featured phones like smartphones still have potential in the Romanian market.
 GfK TEMAX® is an index developed by GfK Retail and Technology to track the technical consumer goods markets. GfK TEMAX® (Technical Market Index) is designed to support decision makers from Industry and Retail in obtaining substantiated facts about their markets. The findings are based on surveys carried out on a regular basis by the retail panel of GfK Retail and Technology.
 The retail panel comprises data from over 370,000 retail outlets worldwide. Since February 2009, GfK Retail and Technology has also been compiling the GfK TEMAX® –  at international level, in more than 30 countries. It is the first index that includes all of the markets for technical consumer goods in different countries.