User Feedback Gives Rise to Liferay 6.1. – Conference Report
June 23, 2011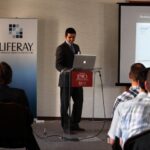 The Liferay Hungary Symosium is part of the annually held conference cycle worldwide. This year the first conference was held in Budapest, on the 26th of May.  The Codesping Liferay team found the Liferay Hungary Symposium useful and thought-provoking. Compact, fast and innovative, the technical sessions of the Liferay conference offered valuable insights into the latest developments of both editions of the Liferay Portal: the Liferay Portal Community edition (CE) and Liferay Portal Enterprise Edition (EE).
Other Liferay events in 2011 are expected to take place:
in Paris, France, on the 15th of June;
on the West Coast, in Los Angeles, California in September;
in Madrid, Spain between the 4th and 5th of October;
in Frankfurt, Germany, between the 18th and 19th of October;
in Bangalore, India, in October.
The Liferay Team made sure to put all attendees one step ahead in the knowledge stakes.  Let us be the digital interface between those interested in Liferay technology, but who missed out this conference and let us share gathered ideas and opinions from high-ranking members of the Liferay community.
LIFERAY 6.1. – ROADMAP
Julio Camarero, Software Engineer of Liferay Spain has offered a provocative session about the next major new feature releases of Liferay's flagship product, bringing a plethora of new features and enhancements for both end users and developers. We took a sneak peek at what Liferay is planning for the 6.1. version of its leading product. The session analyzed why Liferay portal will remain a platform of choice in 2011 and the years ahead and showed how will it move your organization forward.
Greatly Improved Document Library
Striving for an optimal user experience, Liferay 6.1. offers a totally new redesigned UI, with multiple repositories. Users may mount additional repositories while maintaining a common UI: Liferay, CMIS, Sharepoint, Documentum or Alfresco.  In addition to this, multiple repositories allow users to reuse existing Document Management Systems or even to combine them. The improved document library enables unification of the Document Library and Image Gallery into a single unified library (documents, images, videos or other media files can be stored at the same place). Specialized applications will be available to publish specific media types in site pages.
Julio Camarero emphasized the importance of the user's needs: "Document management systems should speak the language of the user and not the other way around". Administrators will be able to define custom types for the unified library. As a result, end users will be able to use concepts familiar in their context such as requirements document, surveillance image and marketing video.  Each type will have specific automatic and manual metadata to enrich the uploaded file.
Enhanced Publishing and Site Management
Improved management of staging through the top bar made simultaneous modification of several site variations possible: multiple teams may work simultaneously on different versions of the site (e.g. a version for Christmas and a version for New Year's).  So each variation will have its own set of pages and share the content. What's more, the scalable and robust staging is optimized for sites with over 100k pages. Greatly enhanced staging enabled preview of the site in the future based on scheduled publications and automatic versioning and undo levels for pages.
Sites are to be customized by users. Site administrators may designate certain pages and areas of pages to be customized by end user. A given user's changes are not visible to other Site members. Portal administrators are able to control user pages: portal administrators can master what users can do in their personal pages, including which portlets they can add to their pages.
Due to improved site management, page and sitemap is editable in a pop-up so that the context is not lost, administration of all types of site content is made from its own page. By using this feature  the need to go to the Control Panel and thus to change the visual context is avoided, as well as the need to decide upfront whether to create organization sites or community sites. Accordingly, enhanced site management resulted in unified management of all portal sites, allowing linking or unlinking sites to user organizations at any time. This way, by expanding the use of site templates, creation of community sites, corporate sites, event sites has been very much simplified.
As for the improvement of configuration management, please note that archived portlet configurations can be added as an application.  Thank to easier multi-language sites, web content title and description will also be translatable. Content publishing is now made simple: users will be able to select or create specific content types from the dockbar. This way, forcing the user to add an application (such as Asset Publisher) and configure it in order to publish content, is avoided. Improved taxonomy support makes it faster and easier to use UI for end users and administrators, allows entering title and description for vocabularies and categories in multiple languages and provides support for single-valued and multi-valued categorizations.
Enabled Online Application Building
New capabilities and enhancements include workflow-driven, user-defined forms and data lists. Users define custom entities to store into database, forms to capture custom entities and user interfaces to display custom entities.  Users can create web forms that submit directly into lists, making it easy to gather survey results. Workflow aware forms will allow online creation of applications based on forms and workflow, flexible web form with multi-step capabilities and offer full support of custom defined workflows. Therefore, users can implement business process with no development (sales approval business process, project definition process).
Liferay 6.1. implements the new version of OpenSocial standard, which is specially relevant to SaaS –like offerings.  Communication between Gadgets and Portlets happens via events, while online gadget building is made vith Mashups.
Improved Social and Collaboration Tools
User experience is at the forefront in the Liferay Social Collaboration Suite.  Contact Center is the most useful tool for contact management: here you can find friends and contacts within the portal, you can view all "Friend" requests and the list of followers and import corporate directories.  The Contact Center is integrated with other collaboration suite elements (Social Office).  The Microblog provides you with short status updates (150char) for your followers. Here you can  view status updates of those you are following. Tagging is also enabled. Users can keep up less intrusive relationships: Microblog allows confirmation-less following and banning of followers, being integrated with Contact Center for ease of management. Private Messaging is the primary communication mechanism within the portal: you can quickly share links to documents, blogs, etc. with contacts; there is an option to integrate it with email or maintain "anonymity".  Users will find a completely new, Google calendar like UI for management of events. The redesigned calendar portlet will be available as a plugin shortly after 6.1. Message Boards provide full HTML editor support and dispose of improved BBcode editor.  Liferay 6.1. provides Improved out of the box support for new generationvdevices (iPhone, Android, iPad).
Platform and Development
RESTful  Web Services is an additional web services layer to complement the existing options (SOAP, JSON+HTTP, …). It is based on the Atom Publishing Protocol with Gdata extensions and allows  Internet-size usage of web services. Liferay Portal will be able to act as an SSO provider for all applications which will be achieved by implementing the SAML standard (Liferay as a SAML 2.0 Identity Provider).  The implementation of OAuth allows applications to connect with third party resources without making the user disclose their credentials.
Improvements brought by Liferay 6.1. resulted in easier and more powerful Liferay IDE and Liferay Developer Studio.  Sandbox Development Environment uses thebenefits of PHP like development within Liferay.   Improved documentation consists in expanded Developer's Guide and improved Javadocs.  Reference documentation is available for for all configuration files and taglibs.
CONCLUSIONS
Liferay is willing to invest heavily on continued improvement of the existing tools; social collaboration and content management will undergo huge improvements; significant new features will be developed to ensure faster ROI.