Founded in Cluj-Napoca, Transylvania region, Romania, Codespring is all about providing expertise in software development. As a Romanian software company, we have been on the market since 1998, delivering high quality software development services to global customers. Over the years, you will discover how our business has slowly but steadily grown both in numbers and people. Organic growth is our key strategy, because it allows acquiring relevant new competencies while also capitalizing on the existing know-how. In the process of building strategic partnerships with our customers we always strived to be flexible and creative. that is why you will discover a portfolio that spreads across a limited number of customers from different industries, but involves many years of collaboration.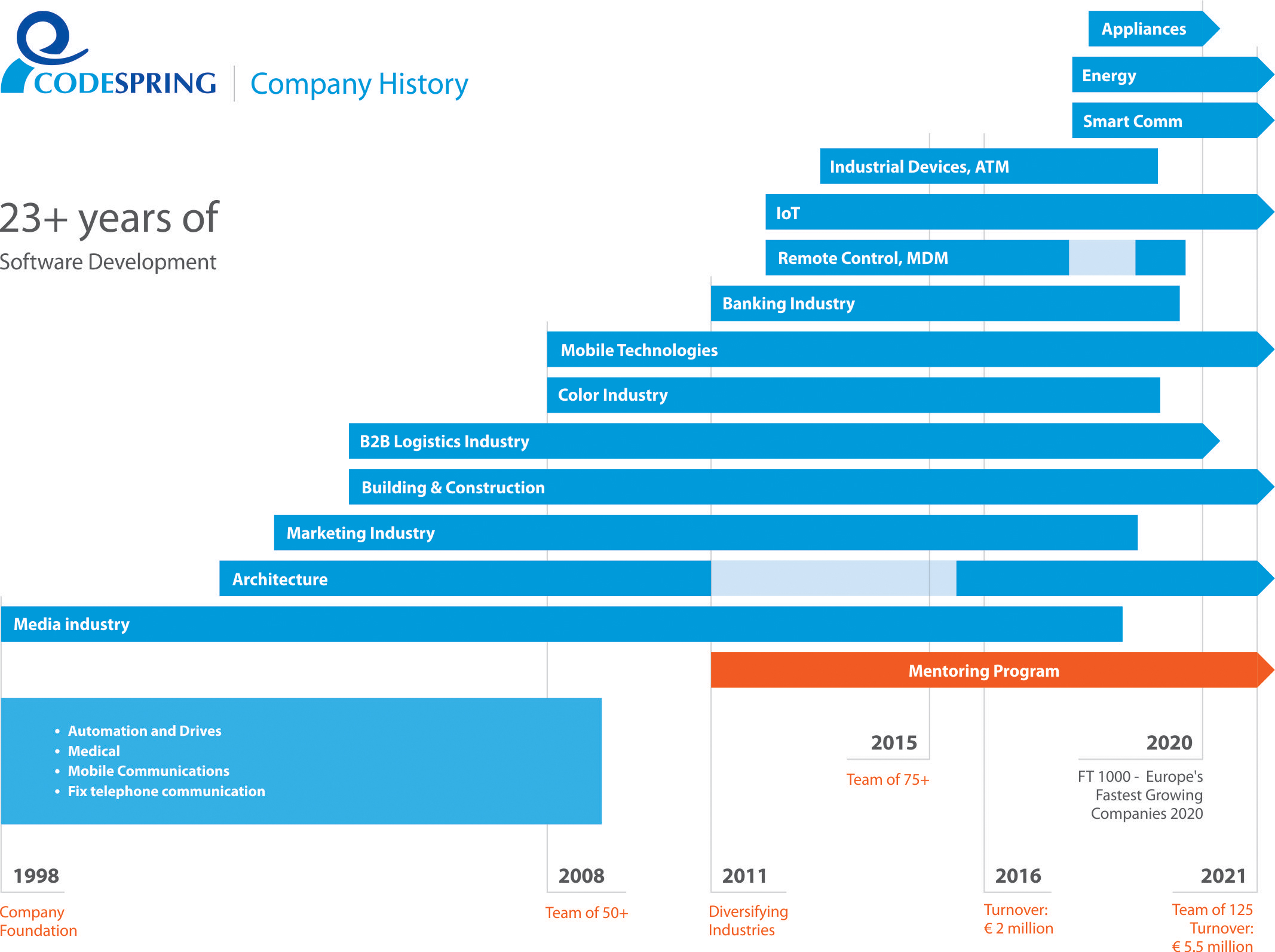 While reading our history timeline, please note that our company is still formed of the core team of software developers who contributed to the initial development of the company. We are proud for having an extremely rare high retention rate of 95% in our team. It is a sign of a healthy environment and healthy human relationships.  Keeping in mid that people build the business, there are several important milestones that worth to be mentioned in Codespring's journey.

Company foundation and the set-up of our first large agreement with a Germany based technology pioneering company.

First steps of a long-term cooperation with the leading companies that build software for architecture.

The team stabilized at 50 engineers.

The company began to diversify more clearly its projects and industry portfolio.

The team collective reached +75 software engineers.

The company reached a total turnover of EURO 2.2 Million

SOFTECH ltd, the company powering Codespring brand on the market is Listed Among Europe's Fastest Growing Companies by Financial Times.
.

The company reaches a total turnover of EURO 5.5 Million.

SOFTECH ltd, wins the Software Outsourcing Project Of The Year Award by ANIS.
.