We are happy to inform you that on March 02, 2012 we have celebrated for the 3rd time (!) the opening of Codespring's office in Odorheiu-Secuiesc (Székelyudvarhely or Oderhellen).  We were all eagerly waiting for this day, as we have a lot of fun while planning where to go and what to do on the occasion.    Each year, besides the traditional dinner, we choose the sporting activity that best suited our colleagues.  This year, the voting brought bowling in the arena.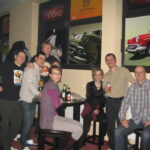 The party started with a copious dinner in the three star hotel – Septimia, where – as a rule for this special event – the colleagues have also invited their partners. Accompanied by good drinks and nice food, it was a good opportunity to recall the greatest moments from the past years:  the motor cycling day, the barbeque party and many more. We also made some plans for the future. For instance, we have agreed that to repeat the motorcycle day, but this time we will be riding to the Bucsin village.
After enjoying the delicious meal and desserts we tried out the newly opened " Bowling Club" in the Septimia sport complex near the hotel. While drinking some beers, we had a lot of fun playing exciting matches. As alongside our little sports arena some party was going on, those who still got the energy boost were inspired and went on partying in the Friday's nightlife of the city.  There were plenty of places to go, and after several bar-hopping they finally found the best party in the famous G Music Pub where they continued the celebration until dawn.
This is how we stepped in our 4th operating year of the Odorheiu-Secuiesc (Székelyudvarhely or Oderhellen) subsidiary. Should you be nearby, do not hesitate to step in and pay us a visit. We will be happy to walk you around and present our team.