Codespring attended TEDx Udvarhely 2022 – a quick review of the event. "Ideas for a better world" was the motto of the second edition of TEDx held on 10th September in Odorheiu Secuiesc (Székelyudvarhely), where our software development company, Codespring|Softech has a strong presence. Codespring supported from the start HBC in organizing TEDx, an event of great importance for local entrepreneurs. This year's event staged 12 speakers from Romania and Hungary and welcomed about 300 participants.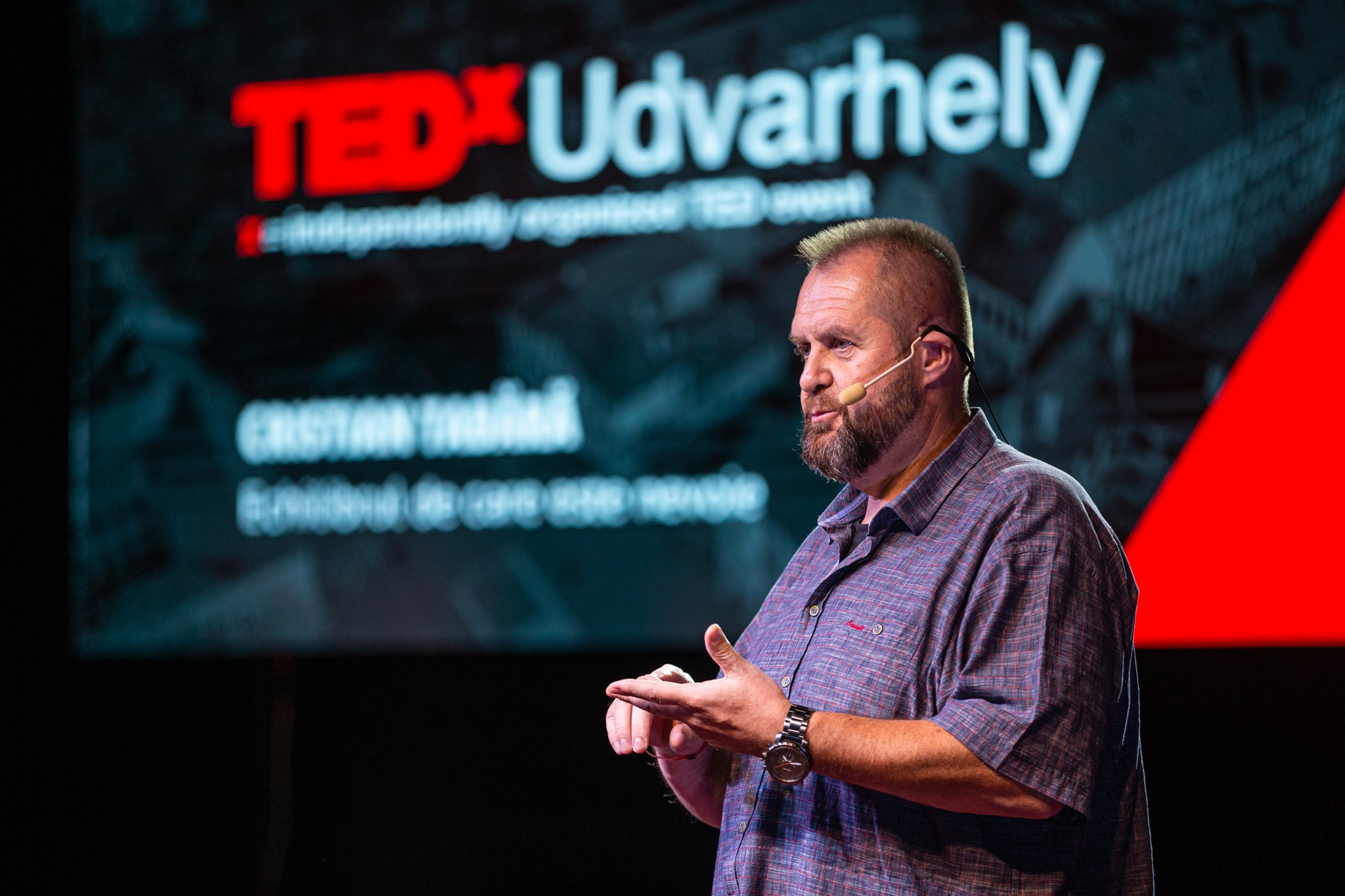 About TEDx Udvarhely
The event had a great line-up of speakers who made a huge impact on the audience. What's more, TEDx became the perfect platform for local and regional entrepreneurs to show up and establish relationships in order to gain inspiration for generating change, and that's exactly what Codespring|Softech considers a goal to support.
Reasonable or "unreasonable" people create bigger change in the world? What is the positive effect of singing together or making puns? How can little mistakes lead to costly failures, and how can failed projects lead to great success? How can we transform our most painful challenges into noble missions, or rather: how can we save ourselves by saving others? These ideas and much more were raised during the second TEDx Udvarhely event, organized by Harghita Business Center in Odorhei.
Quite a few small towns in Romania have the licence to organize this type of TED event, as the organizers have to meet high standards during the entire process. In Odorhei the young entrepreneurs' community welcomed from the start the idea of attending TEDxUdvarhely, and the popularity of this year's event was high, so the event itself became a huge but friendly community gathering all of a sudden.
TEDx Stories That Codespring Team Found Inspiring
Codespring attended TEDx Udvarhely 2022 with a great interest. Codespring|Softech supported enthusiastically both editions of TEDxUdvarhely, just like any other event of whose spirit we can identify with. Besides the sponsorship, our colleagues were also happy to take part in the event: we are always thrilled to learn about innovation, to broaden our perspective and let ourselves inspired by various genuine life stories. As we could guess it, we gained many precious thoughts in different topics.
From intensive care physician Raed Arafat, current Secretary of State at the Ministry of Internal Affairs, we learned about the struggles and bottlenecks for the establishment of SMURD (The Romanian Mobile Emergency Rescue Service) in 1991 and about the long and difficult path that led their project to the national level. He gave an important message of never giving up and being "unreasonable" in a healthy way, in order to make our dreams come true.
High-altitude mountain climber Sterczer Hilda, the widow of Erőss Zsolt made a major impact on the audience, speaking honestly about the highs and lows of her life – about the moment she reached the top of an 8000-meter peak together with her husband, and also about the darkest period of her life, when she lost her love. It was one of the most inspiring moments as she spoke about how she redefined herself on the edge of breakdown; about how found herself again in the mission to help children's development by indoor climbing and sports.
From astronomer and physicist Detre Örs Hunor we got insight into the construction of the famous James Webb Space Telescope and into the history of space engineering, full of small mistakes with huge impact, from which they could learn in order to complete their grandiose space project successfully. We also heard about stereotypes about gypsy communities and people who suffer from cancer, we got to know more about a high school project awarded by the European Space Agency, and also about the living tradition of singing together in Vlahita, the home of Children's Philharmonic Orchestra with a great history.
Codespring At TEDx: An Opportunity To Network With Local Businesses
Before, between and after the speeches we had the chance to get in the mainstream of the local businesses' community by meeting the representatives of other small and medium-sized enterprises of the region. As a constantly growing company we are always open to new partnerships and formal or informal discussions with other SMEs, IT workers or potential new colleagues.
We also designed a Codespring|Softech company booth, not only to make our brand more visible locally, but also to spread a few giveaways carrying our IT company's message which is consistent with TEDx's key idea: the importance of lifelong learning and the strong belief that every experience raises great possibilities of upgrading ourselves.
We were replenished by the familiarity of this event, by the encounter with inspiring people and by the fresh ideas of TEDxUdvarhely.
About Codespring
Codespring™ is the outsourcing brand of SOFTECH™, the 23 years old software development company from Cluj-Napoca, Transylvania, with offices in Odorheiu Secuiesc and Targu Mures. Our main services are: IoT development, cloud application development, mobile application development, industrial software development and cluster based DevOps. Currently the team counts +150 software engineers and follows an organic growth strategy in close collaboration with its strategic partners, long term customers and partners. If you are interested in a career with us, you are welcome to contact us directly.