Summer is on and we were so thrilled to join the young generation at VIBE Festival 2022 in Târgu-Mureș, Transylvania, Romania! Codespring | Softech  software development team also sponsored the event, namely its educational activities at VIBE Koli. Between June 30 and July 3, Codespring organized each day a few technology in use demos and explainer activities.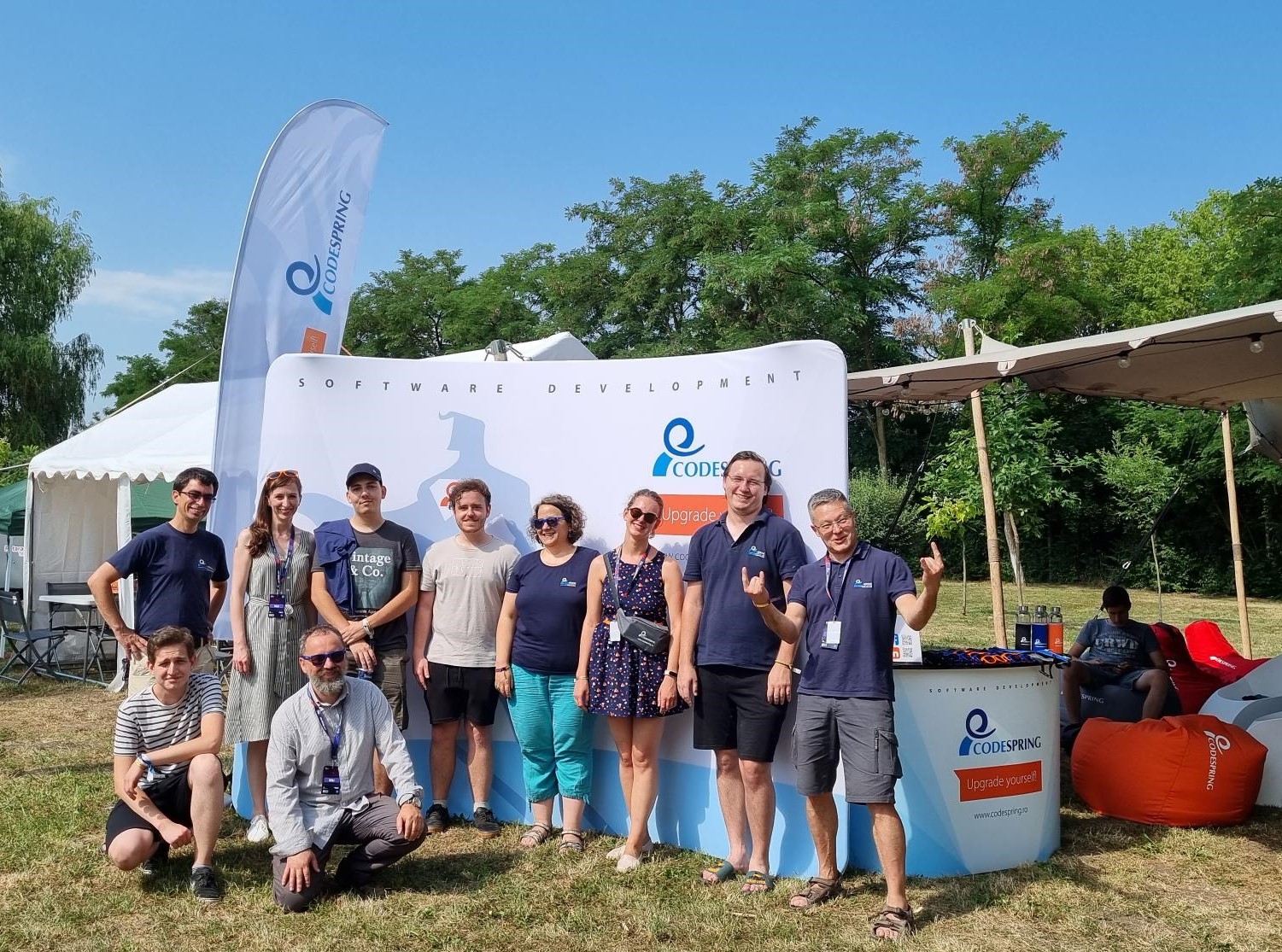 Tech Fun at Codespring Tent
The main attraction of Codespring tent were the fun games with tech gadgets prepared especially for the festival attendees! The visitors got the chance to meet and handle a few robots:
The Sphero robot – a programmable robot great for driving, gaming, and teaching the basics of coding and computer science.
The Robot Alpha from Ubitech – a fun and easily programmable humanoid robot that can be used for education, research and entertainment. Its 16 high-torque digital robotic servos create fluid movement allowing the robot to be as flexible as a human.
The Robo Master:
The Robot Arm, Line-Us: an internet connected robot drawing arm. It is really small, portable and draws with a nice wobbly line using a real pen on paper.
Stand visitors were also challenged to immerse in the VR (virtual reality) world with some fun games via the Oculus VR Glasses.
And the best thing (!) was that everyone could win some nice Codespring prizes, in tune with the festival days: sunglasses, belt bags or water bottles!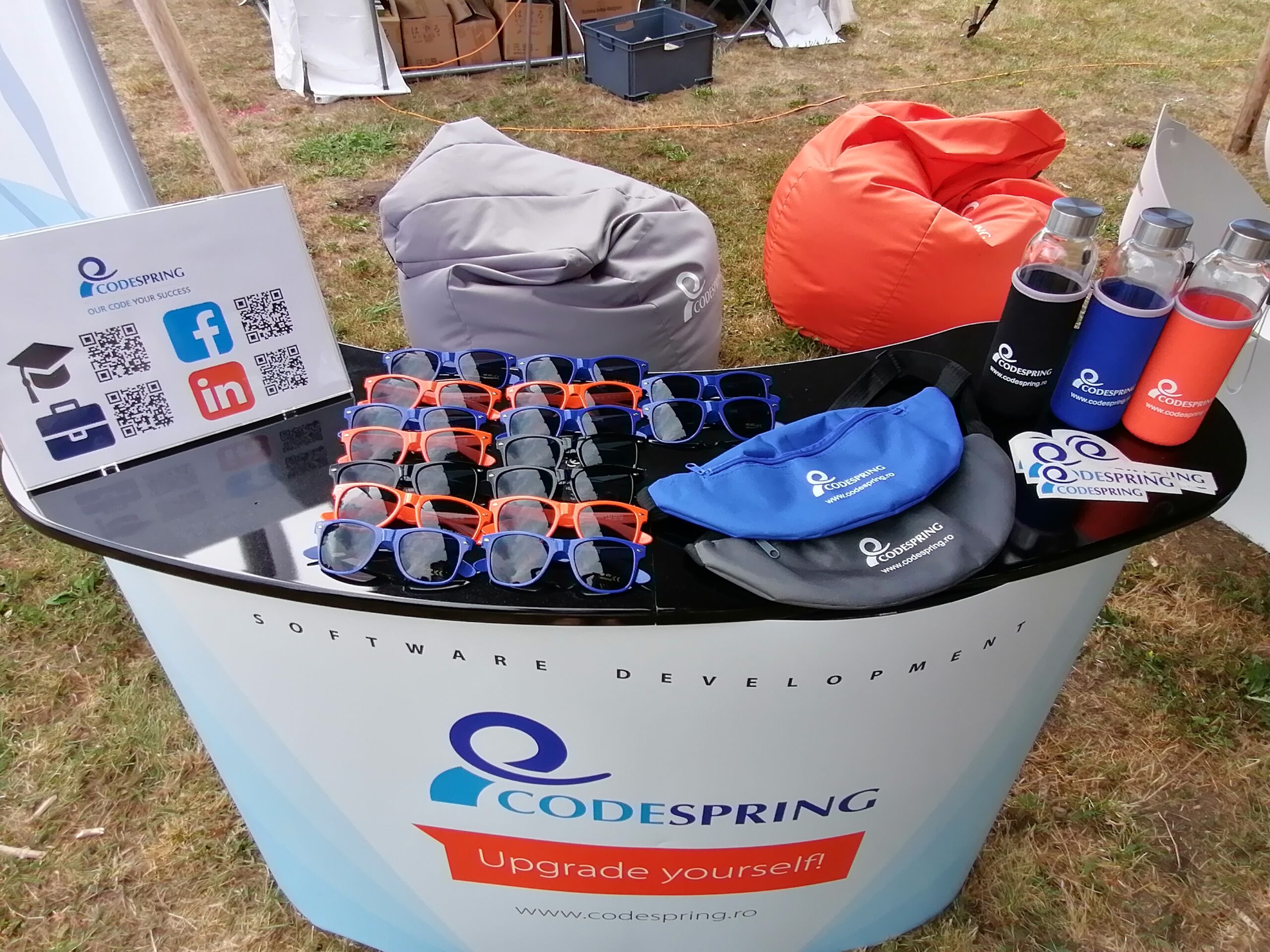 IT Industry and IT Career Talks Delivered By Codespring Speakers
As part of the education section of VIBE Festival 2022, Codespring delivered a few talks about the potential of IT Careers and the impact of technology in our current and future society. We had on stage Károly Simon PhD. – Mentoring Program Coordinator, Barabás László PhD. – CTO and Szélyes Levente – CEO.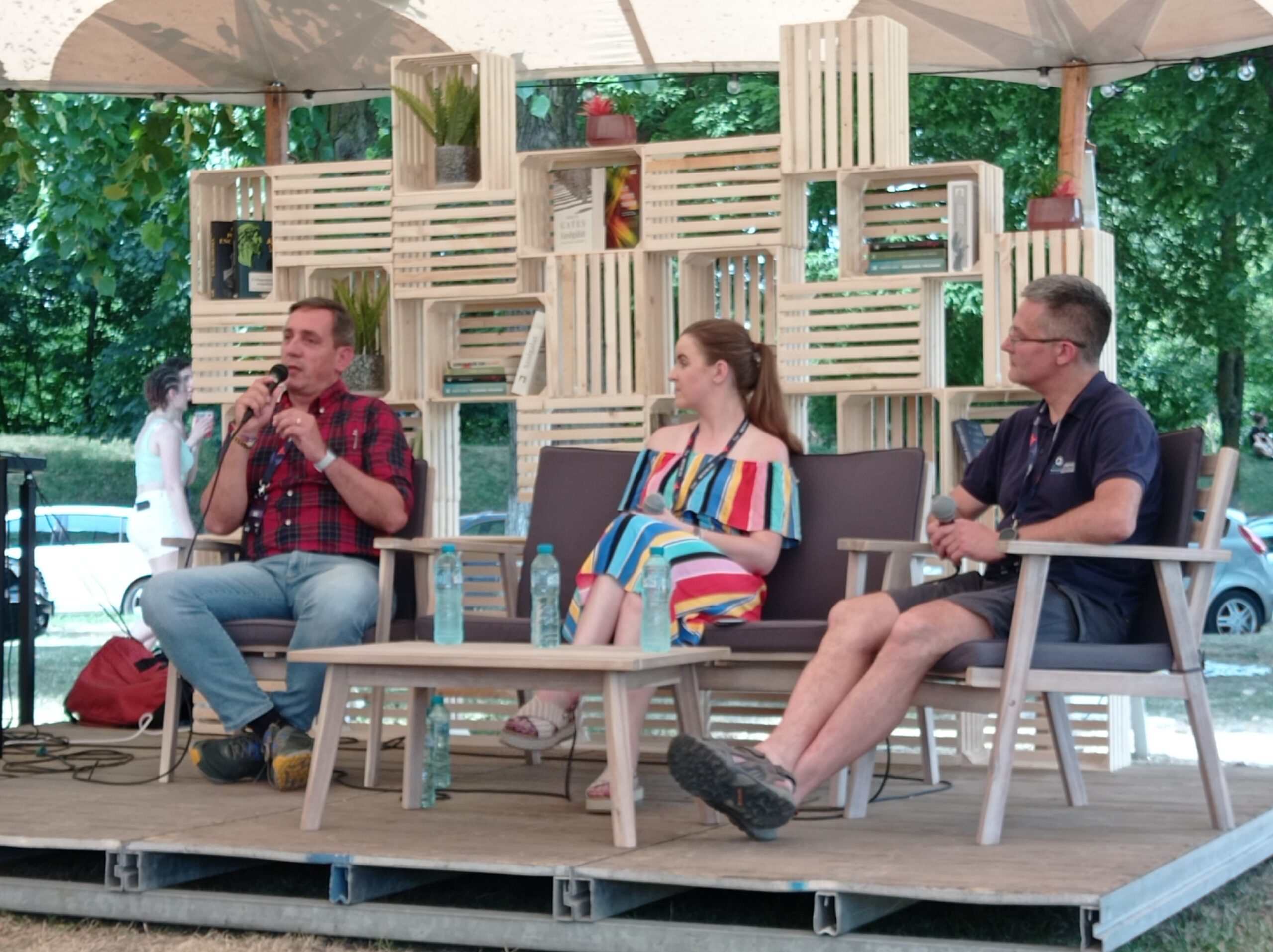 On Friday, mr. Szélyes Levente – Codespring | Softech  CEO, was a guest during the panel talk about start-ups, innovation, CSR and the return to the office work or the hybrid formula. While meeting the young generation of professionals and entrepreneurs, he offered a fair piece of advice: choose wisely your career and take in consideration the opportunities of tech jobs.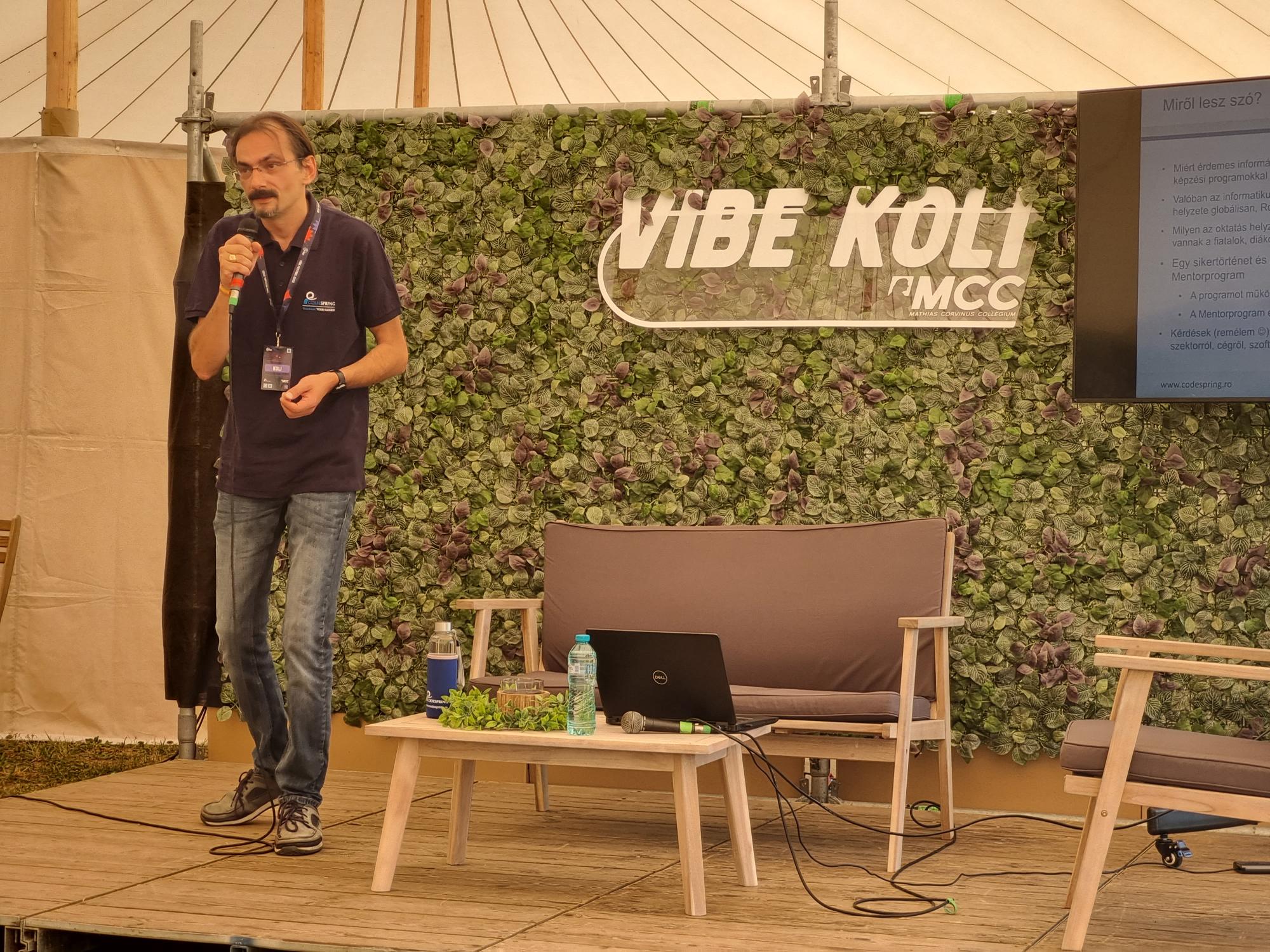 On Saturday, Károly Símon PhD, presented the rockstar of IT mentoring programs in Transylvania: Codespring Mentoring Program. Initiated around 2010/2011 this program is already an established form of training young software developers for their future careers. Applications are open in parallel with the university year and intensive courses complement the main curricula. Thank you to all the mentors involved in the program.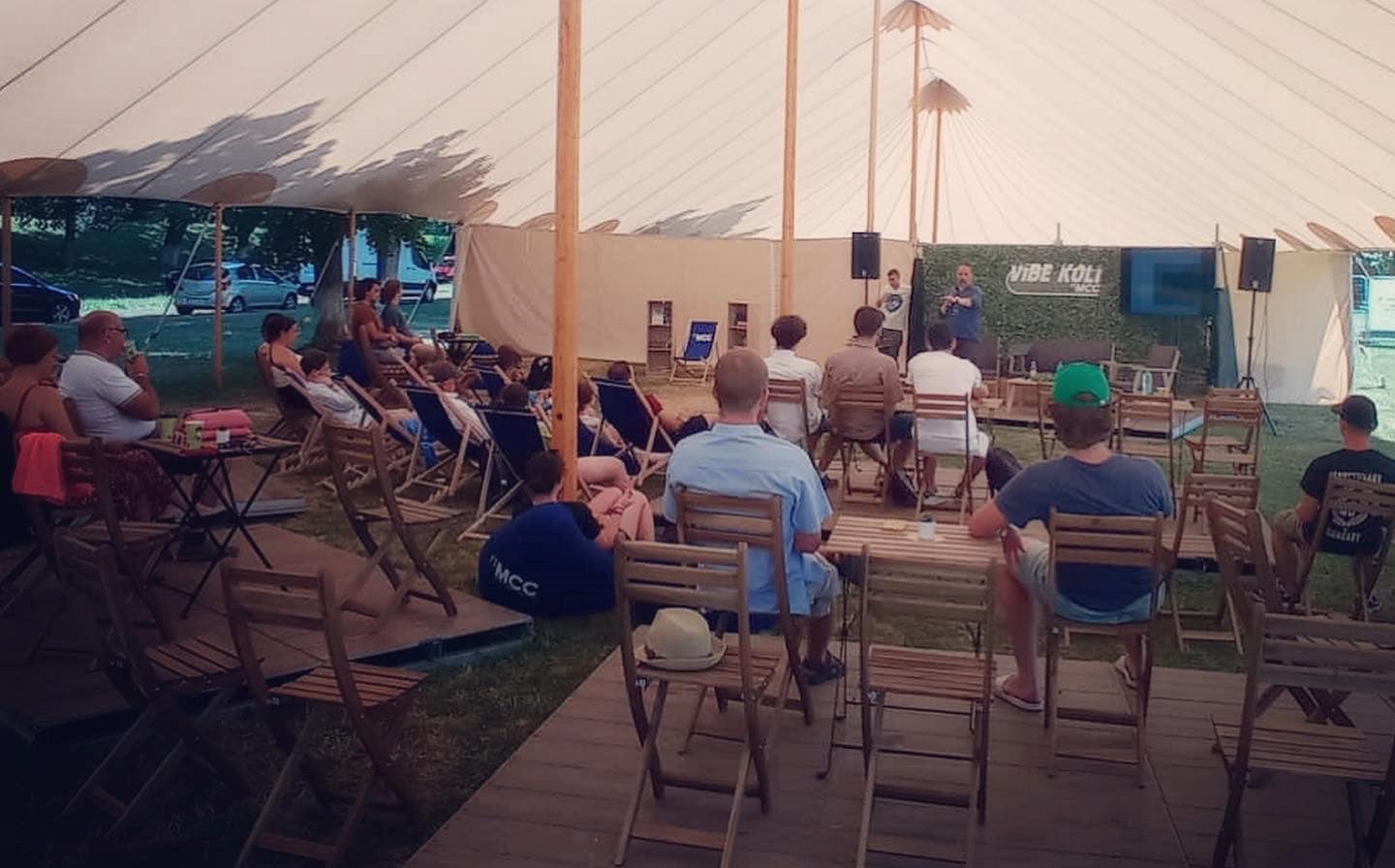 On Sunday, Barabás László PhD,- Codespring | Softech CTO was happy to share his views about the future of IT career and answer some intriguing questions. We were also honoured to receive some key questions from Fa Nándor, a famous yachtsman who is not only one of the greatest adventurers in the world, but also a boat designer and builder.
Our VIBE Festival Experience in a Nutshell
One of the most rewarding things about attending the 2022 VIBE Festival edition was to meet all these young people, curious about what means to be a software developer, what means programming and how technology influences our environment.
Apart from this, the musical experience, the overall entertainment and the good vibes made it a nice event.
We thank all our Codespring team members for a fantastic participation and support of the tech fun activities. You are all golden!