iPhone Development for Apple Store Team meets UBB students
May 13, 2010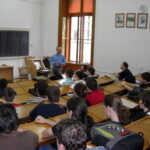 Once again, we thank to all students from the Faculty of Informatics & Mathematics, who attended our presentation on  the 5th of May, 2010 in the Central Building of Babes–Bolyai University focused on the  iPhone development for Apple Store.
All 50 participants gave a very positive feedback on the topic, therefore we plan to challenge you again with other related discussions.
Some ideas and opinions catched the audience's attention. Our CEO pointed out the fact that we cannot ignore a world-wide development of a new way of life. For example: there is an expectancy that the data-traffic will double itself yearly, also there are more other expectancies for a brave new world, like: Mobile ramping faster than Desktop, Internet did and will be bigger than most think, 5 Trends converging (3G + Social Networking + Video + VoIP + Impressive Mobile Devices). That's why one cannot ignore talking about the nowadays growing Smartphone Trends, since the mobile phone, as the new internet platform is always handy, increasing our capacities, also gives us the opportunity for relaxation.
Another catchpoint of the meeting was handled by our iPhone – Project Teamleader who made a funny little presentation about iPhone product implementation, design and publishing, sales and support opportunities on Apple Store / iTunes.
At the presentation's half way, one of our iPhone specialists could not avoid leading a  technical presentation regarding the following themes: Objective C, Mac OS X, iPhone SDK, Open GL libraries, Hello World, 3D iPhone Graphics, 3D Animations and about iSpeedCam technologies & functionalities.
Finally, the night ended with a little snack – break, the students / participants having the opportunity to talk about the up-to-date technologies with our iPhone specialists, also to ask about other company or project-related questions.
The presentation was labeled a success by both participants and organizers and we are willing to organize similar events in the future as well. We encourage empirical learning and we want to assist students in gaining professional know-how, becoming later-on experts in their field.