New Faces Behind the Scenes
May 16, 2011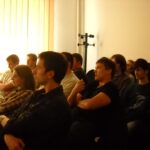 On the occasion of the Codespring Open Days event, we had the chance to welcome new faces behind the scenes of our Software Development and Outsourcing team. The two consecutive days of "open doors" proved to be effective and favored the appetite of fresh graduates and students to get involved in the "live" software development process. We cannot but be happy about this effect and hope that some of them will gain their status of "trainee" in our company.
The first Open Day, 10th of May 2011, hosted a group of 6 young students. On the second day, the 11th of May 2011, we had a sudden increase of participants, up to 15 persons. We were pleased to find out that these groups were quite heterogeneous, covering all academic stages: from 1st year students to Master level and Graduates, coming both from the Faculty of Mathematics – Informatics from Babes-Bolyai University and the Faculty of Automation and Computer Science from the Polytechnic University Cluj – Napoca.
To the extent it was possible and suitable we followed the proposed schedule: projects presentations, meetings with our Management team and workshop. However, great interaction took place on the occasion of the workshop. We encourage this type of attitude and we thank all the participants for their genuine curiosity and interesting questions.
Another good point: we salute everybody who went on with testing our little indoor leisure facilities. Codespring leaders encourage healthy living and relaxation through active movement. In time, it is crucial that you enjoy where you are working and producing performance.
Finally, we thank you for your positive feedback and for your interest in our company. We hope that our message got through and that everybody could understand that being a part of Codespring means reaching out for the adventure of great projects.
"Nothing great was ever achieved without enthusiasm." said Ralph Waldo Emerson. For you, as young future professionals, our advice is to go for that "something" that you are enthusiastic about. It is something we have tested and seen how it works.
That's why, we are eager to embrace your enthusiasm and be along as you will grow into mature professionals in the software development industry.