Operating System Thicket on the Smartphone and Tablet Markets
June 16, 2011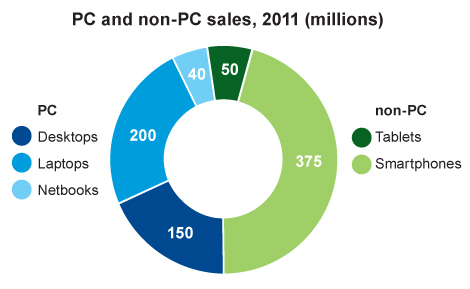 According to their recent research Deloitte analysts predict that in 2011 more than half of the computing devices sold in the world will not be commonly known PCs (desktops, laptops or netbooks). If for 2011, Gartner anticipates PC shipments to reach 409 million units—a 15.9 percent increase over 2010, Deloitte's forecast for aggregated sales of smartphones, tablets and non-PC netbooks overpasses  400 million. Both research agencies agree that the 2011 computing market will shift its major share towards non-PC devices using diverse operating systems and processing chips.
The association of smartphones, tablets and non-PC devices in order to build the opposing market share towards standard PCs relies on three major common characteristics: this category uses low-powered processors, they tend to be assimilated to the use of PC like use and there is a great diversity of operating systems on these specific devices. Over more, according to Deloitte research "by the end of 2011 no operating system will have a dominant market share. Some will have ore than a 5% share, but no single player will have yet become the de facto standard, as has been seen in other computing ecosystems in the past."
Since there is no standardization force and no sole carrier or device carrier to push the market towards any dominant operating system, in 2011 both corporate and personal consumers will face the difficulty of choosing among very different devices: different shapes, different performance and different prices. The replacement cycle of personal computers will be extended due to financial and economical uncertainty, due to the use of multiple devices or the adoption of hosted virtual desktops (HVDs). Buying decisions will take more time and deeper acquisition analysis will be done.
As smartphones and tablets enter the workplace, enterprises will have to manage a colorful network and to integrate all types of devices. Therefore, the cost of managing such a network might be higher than the cost of a standardized one. However the advantages and the work style imposed by personal devices are not to be neglected.  IT managers are already challenged by this phenomenon and must make things work as they are.
Consequently the ball passes in the field of both software and hardware developers. The need for customized software and peripherals may be a big opportunity but also a big challenge. Choosing the right technologies and platforms will be crucial. A system working on a specific type of device will not work for another. The market addressability will be more focused and narrowed. Possibly business margins will also be higher, since the volume dictated price will not be a viable strategy anymore.
As collected data indicates, non-PC manufacturers register higher profit margins than PC manufacturers. Non-PC distributors join the trend, since they are pushing these products on the market. Again there will be a great chance for developing service business for these devices.
Sources:
http://www.deloitte.com/view/en_GX/global/industries/technology-media-telecommunications/tmt-predictions-2011/technology/fd19b1b06ef6d210VgnVCM1000001a56f00aRCRD.htm
http://www.channelinsider.com/c/a/Spotlight/PC-Sales-Forecast-Cut-Further-as-Tablet-Market-Grows-Gartner-711349/