This Saturday, on May 6, Codespring │Softech team will be present at the Career Fair for students organized by the Sapientia University in Târgu Mureș! Come and visit our stand in order to learn more about current junior job opportunities, about the mentoring program, future trainings and the summer internship! Plus, our HR team and software developers will share with you more insights about working at Codespring│Softech!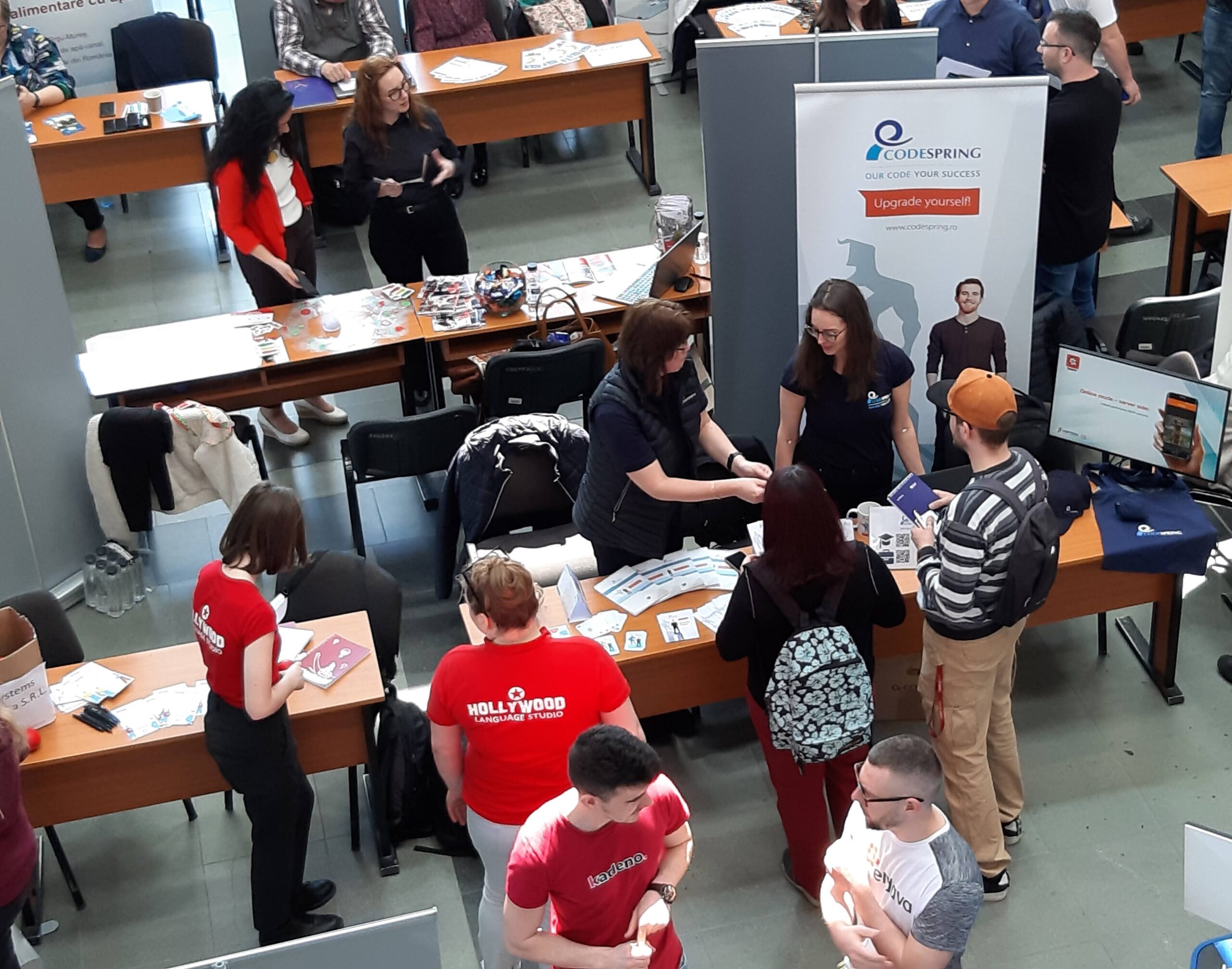 About Sapientia Univeristy's Career Fair in Târgu Mureș
The Students' Association of Sapientia University – Târgu Mureș and the Career Office of Sapientia University, Faculty of Technical and Humanistic Sciences of Târgu Mureș, organize a new edition of the Career Fair, this Saturday, May 6, 2023, between 12:00 to 16:00 in the Faculty's hall.
The aim of the Career Fair at Sapientia University – Târgu Mureș is to introduce university students to companies and public institutions that can offer them full-time or part-time employment opportunities, internships and summer jobs.
What Will You Discover At Codespring's Stand?
During the Career Fair, Codespring │Softech will introduce young students to the opportunities that the software development sector has to offer for the next generation. Students will find out what exactly a software development company does, what the potential career tracks are, what you need to study in order to become an elite software developer and how to prepare for a good application process.
Students will get in touch with:
The HR team – who will explain the various student oriented programs in place at Codespring │Softech:
fast track trainings,
summer internships.
They will also explain the application process and present the junior software developer opportunities.
The Software Development team – who will explain what are the essential responsibilities and the joys of working as a software developer. They will explain how you can grow a career in software development and what the motivation behind doing so is.
In order to make the experience more intercative, visiting students will also have the chance
To roll the dice in the software development game
To test specific devices and mobile applications
and win fun giveaways!
Who Should Visit Codespring Stand?
If you are a student in applied automatics and computer science, machine building technology, telecommunication technologies and systems, computer science or computers (computing techniques) then you are more likely to be interest in the career opportunities offered by Codespring in Transylvania.
Our offices in Cluj-Napoca, Târgu-Mureș and Odorheiu Secuiesc represent the anchor for your future IT career. Start as a Junior Software Developer and become an expert software developer, a team leader or a software architect!
Step by step you will discover the joys of seeing the applied results of software development.
Tips For Students
We are here to help you make the most of you participation at the Career Fair in Târgu –Mureș! Therefore we prepared a few tips and tricks for each student who wants to have a successful experience:
scan the companies of your interest for your first career steps
be open to learn about each company on their website and prepare a few questions
ask about junior positions
ask about the application process
ask how to make a proper CV for their company
prepare a basic CV in your google drive / icloud or other platform (education, volunteering, hobbies)
engage with the exhibitors in the games and activities that they have prepared
take photos and share them with the stand organizers, you will get noticed!
Hoping that all the above sounds interesting, we are eager to meet you and find more about your dreams, your career plans and educational background!
See you in Târgu Mureș, at Sapientia University, at Codespring stand!