CeBIT 2012: Plan Ahead!
January 31, 2012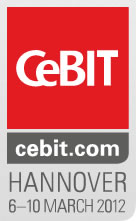 CeBIT – The leading European ICT tradeshow is scheduled between the 6th and the 10th of March 2012. The show venue is Exhibition Grounds, 30521 Hannover, Germany and it will be open daily between 9 a.m. and 6 p.m. CeBIT – "heart of the digital world" brings together suppliers and users at a senior decision-making level by means of four main display categories: CeBIT pro, CeBIT gov, CeBIT life and CeBIT lab. Codespring will be attending the event as an exhibitor at RomaniaIT stand, Hall 6 / stand D46. Bearing the fruit of CeBIT previous editions, Codespring invites all interested parties to plan topic based meetings with our senior Board members.
CeBIT 2012 presents itself as a "combination of flagship international trade fair, Global Conferences with up-to-the-minute contributions from top  industry players, and integrated corporate events". (source: CeBIT 2012 brochure foreword) The CeBIT 2011 after show figures raised the bar to new  standards: 339,000 visitors from 110 countries, 7 million business contacts, 72% of the trade visitors involved in investment decisions, 500 CIOs  from international concerns with 50 billion to invest each year. (see more at www.aftershow.cebit.de).
CeBIT 2012 key note theme is "Managing Trust", stressing out the fact that trust and security in the digital age is a critical issue to be addressed by governments, economies and consumers. As Mr. Ernst Raue, the Deutsche Messe Board member responsible for the CeBIT event pointed it out "CeBIT has set the goal of reducing the gap between confidence in modern technologies and the actual trustworthiness of digital solutions. This is the only way for innovation to reach full strength. […] Suppliers and users have to recognize that managing trust and confidence in intelligent solutions and processes is a central function of management."
Codespring at CeBIT 2012 aims at showcasing success stories of software development and ICT services in Cluj-Napoca, heart of Transylvania region in Romania. Our team will be there to present you the insights of a collaboration with Codespring and the affinities that Cluj-Napoca has with German, French, Italian, Swiss and broader European culture.
If you are a professional user of software services or have an innovative software idea we will be glad to arrange a meeting with our senior Board members. A few topics may also be the perfect start for setting up a meeting with us:
Business IT: Business Transformation; IT Services/Managed Services/ Outsourcing; Embedded Software and Systems; Virtualization, Cloud Computing; Webciety – Internet solutions; Security World.
Business Communications and Network: Broadband Technologies and Solutions; NGN, IP Technologies/VoIP; Mobile Solutions and Smartphones; Telematics and Automotive World.
Public Sector: Public sector solutions (Urban, Education, Health solutions); Telemedicine.
Content & Technology: Audio & HI-FI industry; Content & Solutions Provider; TV & Cinema; Hybrid TV/ IPTV /Connected TV; Apps; Navigation/ Car-Infotainment;
Research & New Technologies: Applied research; Basic Research; 3D Technologies; Assisted living.
These topics follow the CeBIT classification and are not exhaustive and are intercomplementary as we have been engaged in several global scale projects. You may find it more at ease to consider a topic by industry, by subject or by technology.
We are open to learn more about your thoughts and to back them up with customized solutions. As we are aware of the ever-shorter development cycles the industry is undertaking we also propose a set of flexible cooperation models.
For booking a direct meeting with Codespring members at CeBIT 2012 you may write directly to our corporate email: office@codespring.ro or call us at our head office: +40-364-113110 until the end of February 2012.