CODESPRING CHRISTMAS PARTY 2010
December 22, 2010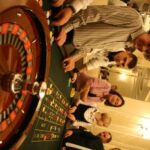 On the special winter day of 17th of December 2010, somewhere near Cluj, Codespring team and their guests have celebrated Christmas spirit and made wishes for the New Year. No one knew exactly what "Santa" has been planning for this evening … Sparkling gold venue, black and white suits and dresses, fine wine, good music –all seemed perfect for a rocking party night… Yet, "Santa" was prepared for more (!) and set up the surprise of the evening: Codespring Fun Casino!
After gladly welcoming all guests from our two offices -Cluj-Napoca and Odorheiul Secuiesc, little Nóra Szelyes enchanted us with a special Christmas Carol. She and the rest of the toddlers brought the innocence spirit and the genuine joy of holidays to our party.
Further on, a Fun American Roulette table and a Fun Blackjack table hosted everybody: senior and toddler teams :-) ! Playing cards and learning roulette strategies were so fun and exciting that we ended up in two fun tournaments.  Some talented and lucky players did arise and we awarded them with a life-time decoration. The title of "Best American Roulette Player of the Evening " has been won by our dear colleague Levente B.; the title of "Best Blackjack Player of the Evening" went to our young colleague Arnold K. Congratulations to both of them! Now we know we may send somebody to L.A. and proudly represent us! :-)
On the other side of the tables, things were not so easy… we hereby congratulate Ákos N. for daring to be a "fun dealer" at the fun roulette table! It's not so easy as it seems and he experienced it. This being proven, we bring special thanks to Elf'st TM marketing & investment who brought Your Fun Casino team to our special event.
Party went on until 3 o'clock in the morning, dancing, tasting wines and sharing stories. Some of us, continued partying "by the book" until dawn… From here on, no further comments, pictures speak by themselves!
Thanks everybody for being so great! We hope you did enjoy it and are ready for a "remake" next year!
Merry Christmas and Hapy New Year!