In April 2021, our company – SOFTECH Ltd – was granted the "Software Outsourcing Project of the Year" Award during the ANIS Gala for the Romania's IT Industry Excellence Awards. The award comes as a big recognition after many years of development of the winning project, but also as a public thank you to our software development team who is silently working on many prestigious and award-winning software systems.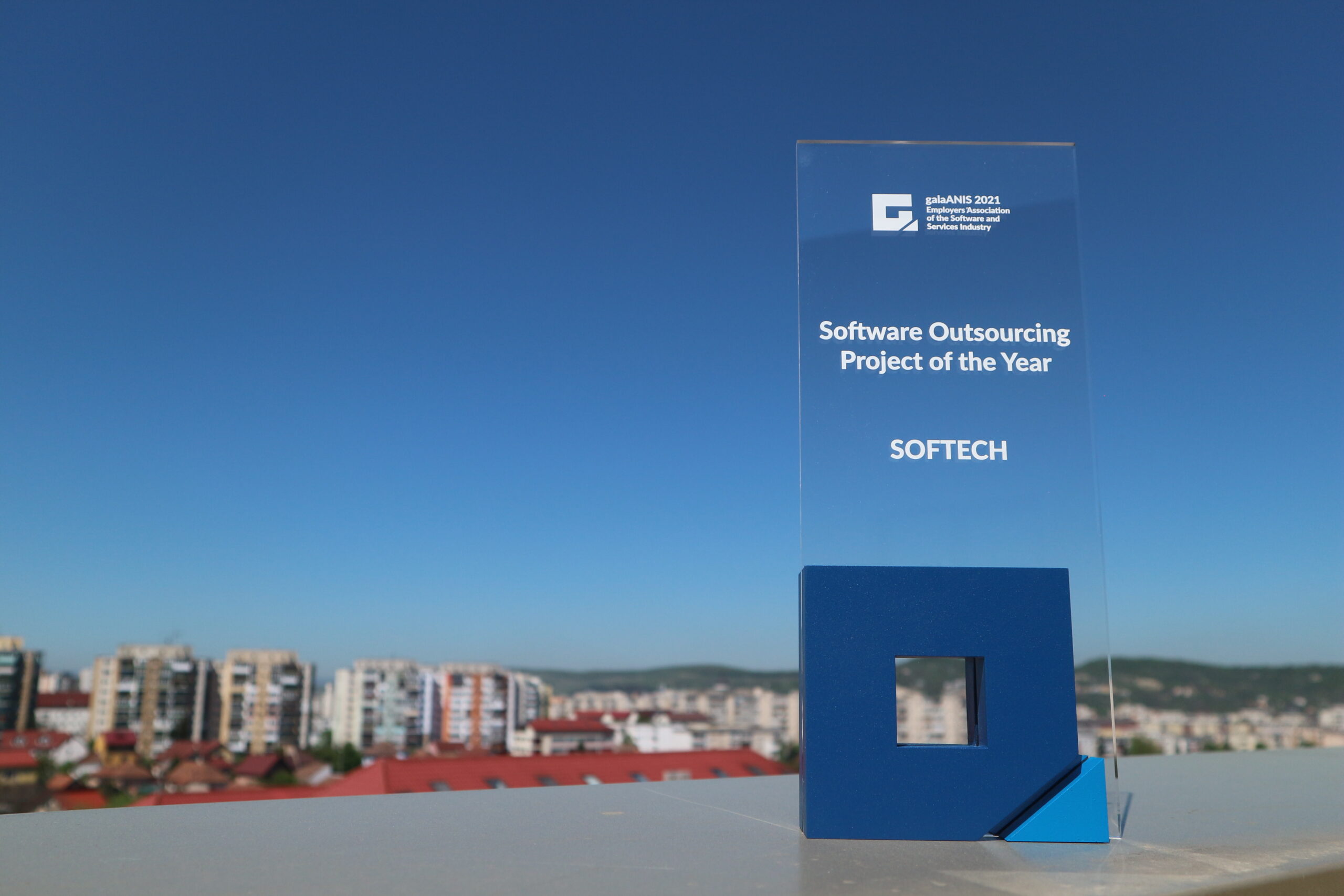 The Winning Project: A Multiplatform Complex Alert Management System
The winning project is the full life cycle development of a multiplatform complex alert management system with an infrastructure providing high availability, high connectivity, high performance and high scalability.  This project distinguished itself from other projects in competition for it has grown as a powerful tool during the pandemic. One of the key features is its integration of IoT devices, sensors and industrial equipment with a cloud based system and real field units, able to intervene in case of emergency and hazardous situations.
Our Contribution To The Solution
Our software development team is responsible for the full life cycle application development of the solution: from BA, use cases definition, requirements specifications, architecture design, infrastructure design, CD/CI. Due to the security and alerts industry particularities, the DevOps culture proved to be a perfect fit for this project.
"At SOFTECH | Codespring we are very proud to have won the Software Outsourcing Project of the Year award as part of Romania's IT Industry Excellence Awards in 2021.  It is a distinction that truly compliments the software development team's performance and the way in which software outsourcing cooperation is fine-tuned on a daily basis. We value a lot the work that ANIS does in Romania for the development of the IT industry and we hereby congratulate the organization for their impressive projects and results." Declared engineer Levente Szelyes – CEO and founder of SOFTECH.
Our Commitment to Excellence Delivers Great Results
Congrats once again for the project team that brought this special "Software Outsourcing Project of the Year" Award at home in Cluj-Napoca! We would also like to emphasize that the last years evolution of our company  attracted our listing in 2020 Europe's fastest-growing companies ranking – FT 1000 by Financial Times .
About SOFTECH │ Codespring
SOFTECH │ Codespring is the 23 years old company, from Cluj-Napoca, Transylvania, providing software development services and software integration. The main services: IoT development, cloud application development, mobile application development, industrial software development and cluster based DevOps. Currently the team counts +120 software engineers and follows an organic growth strategy in close collaboration with its strategic partners, long term customers and partners.
About ANIS
ANIS – Employer's Association of the Software and Services Industry represents the interests of Romanian IT companies and supports the development of the software and services industry, as well as the growth of companies involved both in outsourcing projects and in developing proprietary applications. Founded in 1998, ANIS includes in 2021 about 140 members – companies with both domestic and foreign capital, small and medium companies as well as multinational entities, standing for a 66% of the total IT industry turnover  in Romania.
ANIS as an active member of Digital Europe and of National Professional Association Concordia acts on three key pillars: advocacy, education and community building. ANIS is closely working with the Ministry of Economy, the international chambers of commerce and the commercial attachés of partner embassies.