Tasty Bytes of Top Mobile Technologies
May 2, 2011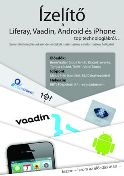 You are a student or a fresh graduate and would like to taste some of the latest mobile technologies know-how? Your time has come!
We are happy to invite all Hungarian speaking students and fresh graduates to a special presentation on the 4th of May 2011, in the UBB main building, room 5/I, at 18:30.
Codespring will introduce the audience to Liferay, Vaadin, Android and iPhone technologies. Our technical team will present relevant updates about the latest developments and some study cases. All attending students are invited to ask any questions related to the presented content.
Also, a short company presentation will be held by our General Manager- Brem Walter, followed by an outline of the further Codespring HR events prepared by Enikő Szilágyi, HR Specialits.
We are eager to meet you and answer all your questions.
Codespring Team